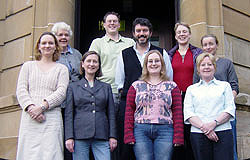 The SCOTS team in 2004
Back row
: Professor Christian Kay, David Beavan, Professor John Corbett, Dr Jane Stuart-Smith, Cerwyss O'Hare
Front row
: Dr Wendy Anderson, Jean Anderson, Louise Edmonds, Flora Edmonds
The first phase of SCOTS was funded by the EPSRC and carried out between 2002 and 2004 as a collaborative project between the University of Glasgow and the University of Edinburgh, with Glasgow responsible for the collection of texts and speech and the creation and maintenance of the corpus, and Edinburgh developing the corpus architecture and examining various research issues in the representation of multi-modal corpora. The team comprised:
University of Glasgow
Professor Christian Kay, Principal Investigator
Professor John Corbett, Co-Investigator
Jean Anderson, Co-Investigator
David Beavan, Research Assistant
Dr Fiona Douglas, Research Assistant
University of Edinburgh
Henry Thompson, Principal Investigator
Tim O'Donnell, Research Assistant
The second phase of SCOTS was funded by the AHRC between 2004 and 2007. This phase was carried out by members of English Language and STELLA project of the School of Critical Studies at the University of Glasgow.
Team members were:
In addition, the team was assisted by numerous individuals and organisations.
The website was redesigned in November 2013 by Brian Aitken, Digital Humanities Research Officer.